I've got sew much I'd like to get done in March - my To Do list could stretch a mile!
Hoping those March winds blow Spring in to us quickly!!!
My March

Country Basket

from Quiltmaker 2003
Fortunately, I also have two retreats scheduled this month as well, so there is a slim chance that I could actually accomplish at least one or two items on that Megalist :*)
OMG, it's March!
One of my main goals for March will be the OMG Challenge. My guild's Challenge number for March is #4, which for me means to complete my
Joy
Wallhanging Kit.
This kit is at least 2 years old, if not 3, and before today it was unopened. Yep, I need to finish this puppy from start to finish. My only hope of accomplishing that feat is the fact that it is fairly small - and OMG! - I
'm just now finding out that there are no instructions - wow!
So I can't tell you what size it is supposed to finish. In the kit are the pieces of fabrics, a picture of the finished project, and the pattern for a much larger quilt .... that's it....
It shouldn't be too difficult to figure things out though. I'm thinking I'll have to consider the long, thin cream-colored background piece as my starting point and trust that it is cut to the desired size. I can easily make the applique shapes, place them where I want them, and add the borders.
Phew! Okay, I'm breathing again ...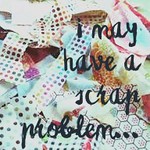 One of the other things I've really wanted to concentrate on this year is to reduce the number of scraps in my bins.
Don't get me wrong!
I love having scraps and I am definitely a very scrappy quilter. But I like to move those scraps through, use up the old and make room for the new, you know what I mean? My bins are overflowing and it's time I started moving some of them into projects.
With that in mind, in addition to the
Rainbow Scrap Challenge
and
365 Quilty
circles, I think I'm going to link up when I can with
Confessions of a Fabric Addict
for her new linky party
I May Have a Scrap Problem
- on the first and last Wednesdays of each month. Sarah is planning to post a monthly goal for cleaning up her "Scrap Problem" on each first Wednesday, and then post her progress on each last Wednesday.
My plan will be to dig into some of the many, many project ideas and patterns I have collected over the years to make one scrappy something each week. The goal will be four a month, but I think I'll be happy if I end up with two.
I'm all the time seeing cute little patterns, like Lazy Girl's Sweetpea Pods, and of course I have every intention of making them right away ...
but you know how that goes don't you?
So I decided, what better way of testing out some block designs or a new pattern to see if I like it than by using my scraps? Besides, I really don't like cutting up yardage for a small project - I usually regret that when I need the yardage and a big square of it is gone!
I've already picked out my four projects for March, and I'll be posting progress along the way. I'm really excited about this! As an added bonus, I can link most of these up with
Sharon
Vrooman's Let's Book It
:*) Yay!
Win - Win - Win!!!
Teresa