I laughed out load when I read Kathy's post at
Kathy's Quilts
this morning! She asks the question,
"How do you find your direction and make your choices of what quilts to make?"
Of course that is not a funny question, but what
was
funny is that I had just been thinking not 30 minutes earlier that I needed to stop, take stock of my projects and decide on my direction going forward!
For the past few weeks, I have been headed in one direction - getting my guest room ready for my mom's visit. I wanted to have
Scrappy Bearpaws
and its shams on the bed to welcome her when she got here.
Mission accomplished!!!
And don't Mom & Darryll
look happy???
The shams are made from the last of this favorite red paisleys fabric and quilted on my domestic machine with an allover swirly flower design similar to the panto I used on the quilt. I used a gorgeous variegated pinks-to-red King Tut thread for the quilting - Yummy!!!!
I didn't have enough fabric to do the entire shams in the red paisleys though, so I used muslin for the center of the backs...
My mom left yesterday to go back home, and so today I am pondering..... Which direction now?
Are you like me? So many projects in the works that you have a hard time deciding
which one gets your attention today?
I have friends who only work on one project at a time. They have no problem deciding what they are going to sew on each day. They
know
! Me? Not so much! I LOVE all the projects I have going, and I also have quite a few I want to start...
Today will be a day of reflection and decision. I want to enjoy what I'm working on, to pick out the project that sets my finger tips tingling in anticipation and makes my inner child feel as free & happy as this little girl as I
sew, sew, sew..
...
............ what will it be????
Linking up with Connie's Linky Party and Fabric Tuesday Quilt Story today...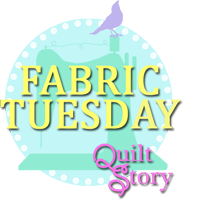 Hugs & Blessings!
Teresa
=^..^=